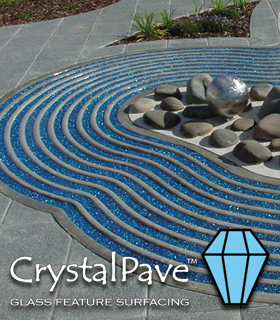 CrystalPave™ uses recycled crushed glass to create stunning highlight features in exterior paving and interior flooring projects. Unlimited customised patterns and shapes can be formed to create unique designs with a broad spectrum of colours.
CrystalPave™ can be used to brilliant effect when combined with SuperStone or StoneCarpet.
Smart use of lighting can also be used to further enhance this outstanding material.
Suitable for:
Architectural Design
Backlit Paving
Interior Flooring
Wall Panels
Benefits:
Sparkling Aesthetic Finish
Comprehensive Colour Range
Practical
Stregth and Durability
Versatile